Skincare Pre-Treatment Kit | Made in Australia
Regular price
$110.00 AUD
Regular price
Sale price
$110.00 AUD
Unit price
per
Sale
Sold out
The Skincare Pre-Treatment Kit by Live Now Skincare is a collection of three essential products that work together to help you achieve healthy, radiant skin by exfoliating, brightening, and improving the overall skin texture. This kit is specially formulated to be used before your regular skincare routine, providing the perfect pre-treatment to ensure maximum efficacy of your products.
In this pack:
1. Daily Cleanser with 5% Glycolic Acid: gently exfoliates and removes dead skin cells, promoting cell turnover and improving the overall texture and appearance of your skin.

2. Vitamin C Serum with 15% Ascorbic Acid: a potent antioxidant serum that helps to brighten and even out your skin tone, reducing the appearance of dark spots and hyperpigmentation. It can also help to reduce the appearance of fine lines and wrinkles.

3. Niacinamide Serum: helps to reduce the appearance of pores, controls oil production, and improves the overall texture of your skin, making it particularly effective for those with oily or acne-prone skin.
Targeted Skin Concerns

Dull or uneven skin tone, Fine lines and wrinkles, Enlarged pores, and Enlarged pores
Ingredients

Glycolic Acid, Ascorbic Acid, and Niacinamide
Directions

Begin by cleansing your face with the Daily Cleanser with 5% Glycolic Acid, using gentle circular motions. Follow up with the Vitamin C Serum, applying a small amount to your face and neck. Then, apply the Niacinamide Serum to target any specific areas of concern, such as enlarged pores or oily skin. Allow the serums to fully absorb into your skin before applying any additional skincare products.
♡ Get a Free Carry Bag With Each Order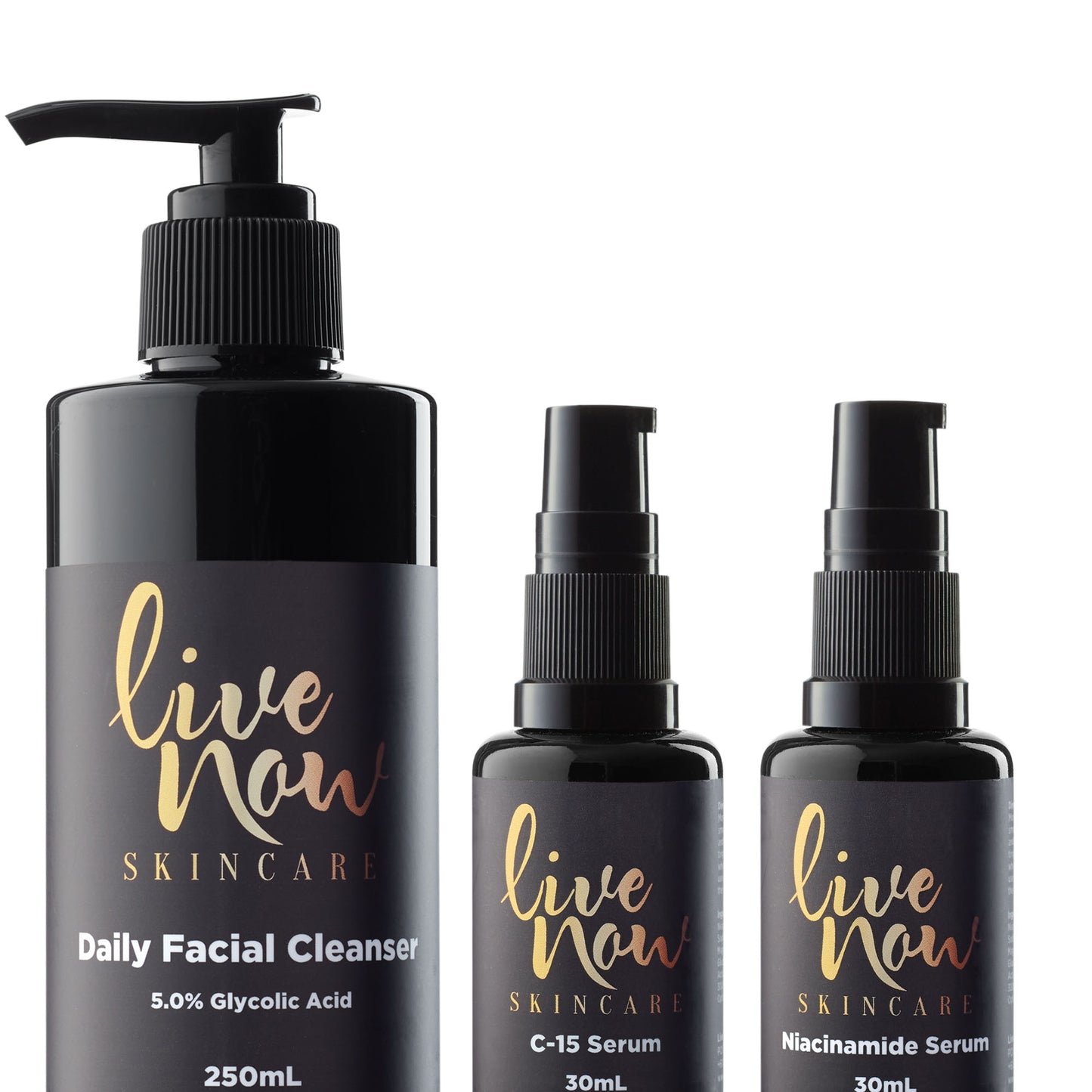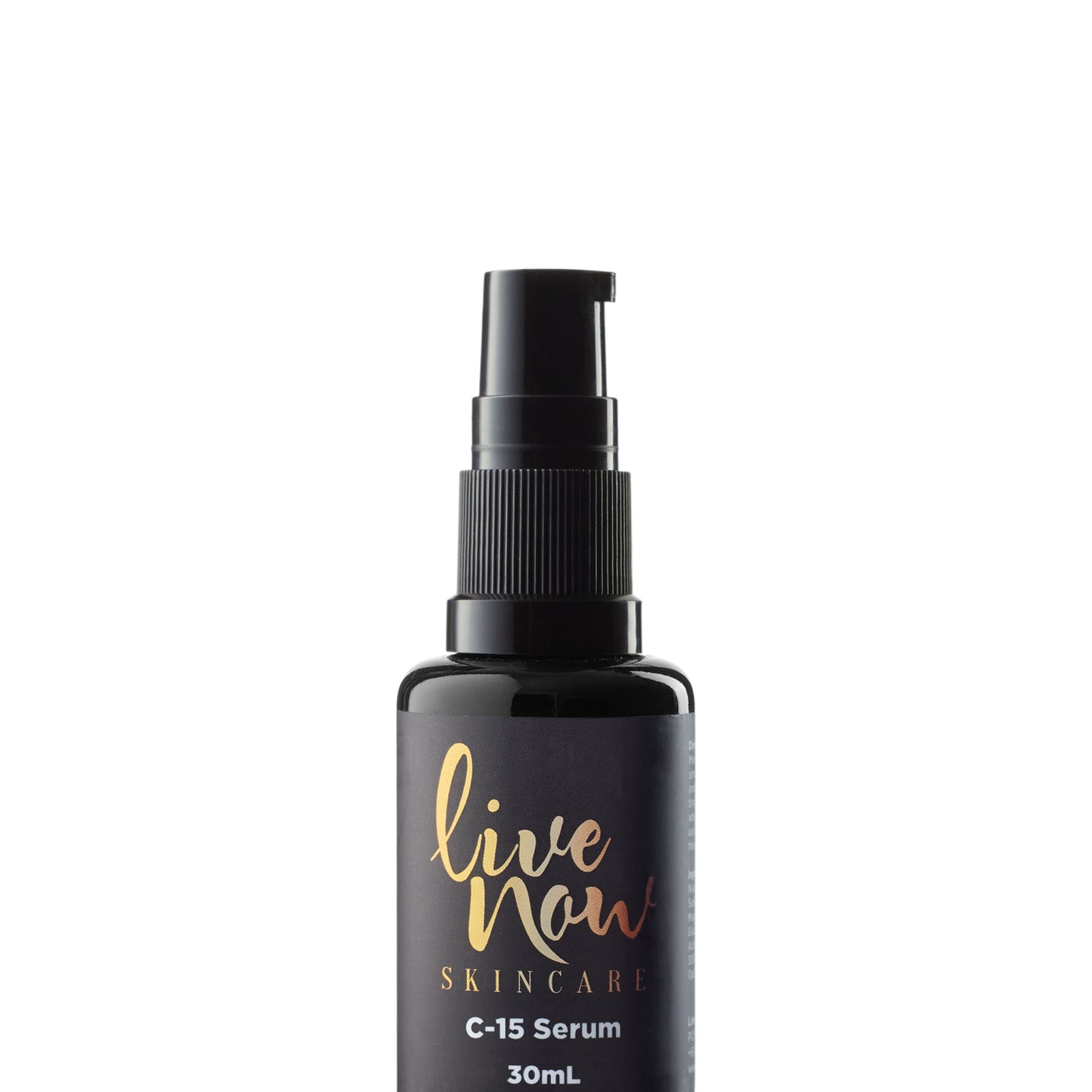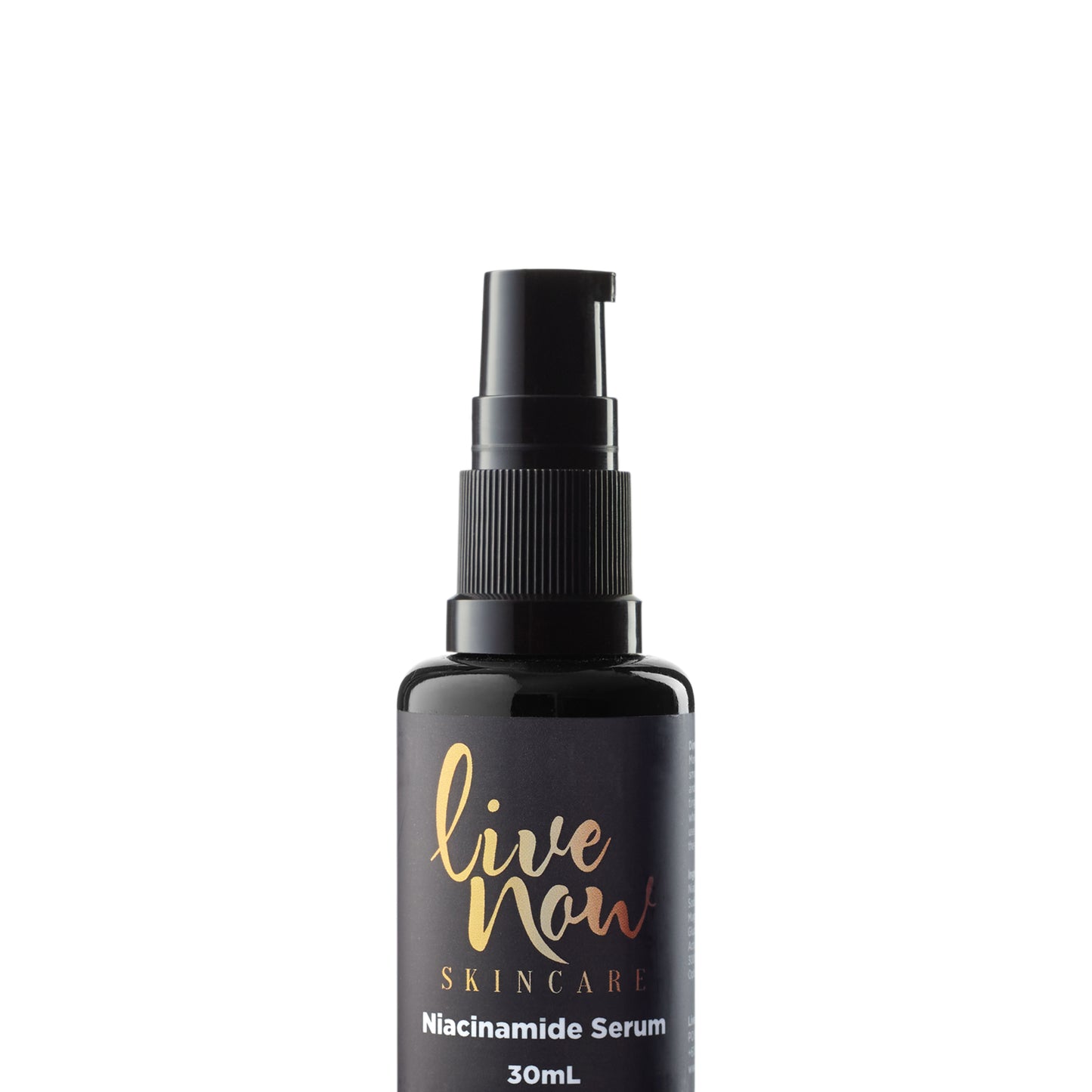 Free Carry Bag With Each Purchase
Australian Made and Owned

The Live Now Skincare products are researched, developed, and manufactured in Australia.
About Live Now Skincare
Live Now Skincare is an active, science-backed skincare range created for women who are busy living.
Delays Ageing

Prevents Bacteria Formation

Reduces Inflammation

Cleanses and Unclogs Pores
Created by a Medical Professional
Ruth Lavell (RN, NM, NP), founder of Live Now Skincare, has extensive pharmaceutical industry and practicing cosmetic nursing experience and has been formulating skincare products that WORK for more than ten years.

Live Now Skincare is 100% Australian made and owned.
Learn More
From the Live Now Community