Cleanser, Vitamin C Serum, and SPF 50 Sunscreen | Made in Australia
Regular price
$107.00 AUD
Regular price
Sale price
$107.00 AUD
Unit price
per
Sale
Sold out
Everything you need to maintain healthy and glowing skin during the summer:
Cleanse with the Live Now Facial Cleanser 5% Glycolic Acid
Use the Live Now Vitamin C-15 Serum
Apply the Live Now SPF 50 Sunscreen
For all ages and skin types.
About Live Now Facial Cleanser 5% Glycolic Acid

May assist with: 

Reducing dead cell build-up / exfoliating epidermis
Reducing hyperpigmentation
Help to minimise fine lines
Stimulating cellular growth/increasing cell turnover rate
Improving micro-vascular blood flow
Improving the clarity of the skin
Preparing the skin for absorption of other treatments
Directions: Place a small amount on wet hands. Massage face gently for 30 seconds, avoiding contact with the eyes. Rinse and repeat. For best results use morning and night.
About Live Now Vitamin-C-15 Serum

How it affects the skin:

Brightens
Rejuvenates
Smooths
Firms


What it does:

Protects from UVA/UVB sun damage
Co-factors in collagen production
Increases the production of new collagen
Thickens the epidermis and "plumps out" lines and wrinkles
Strengthens elastin in the skin and blood vessels
About Live Now SPF 50 Sunscreen

Water-resistant, broad-spectrum.
Re-apply frequently, especially after exercise, perspiration, swimming and towel drying.
Regular and frequent use can aid in the prevention of some skin cancers
PRESERVATIVES: Contains Phenoxyethanol Phenethyl Alcohol.
This product complies with Australian Standard AS/NZS 2604:2012
Directions: Shake well. Apply liberally and evenly to the face 20 minutes before sun exposure.
Caution: Avoid contact with eyes.
Active Ingredients: Octocrylene 10%, Methylbenzylidene Camphor 4%, Butyl methocydibenzoyl Methane 4%, Phenylbenzimidazole Sulfonic Acid 4%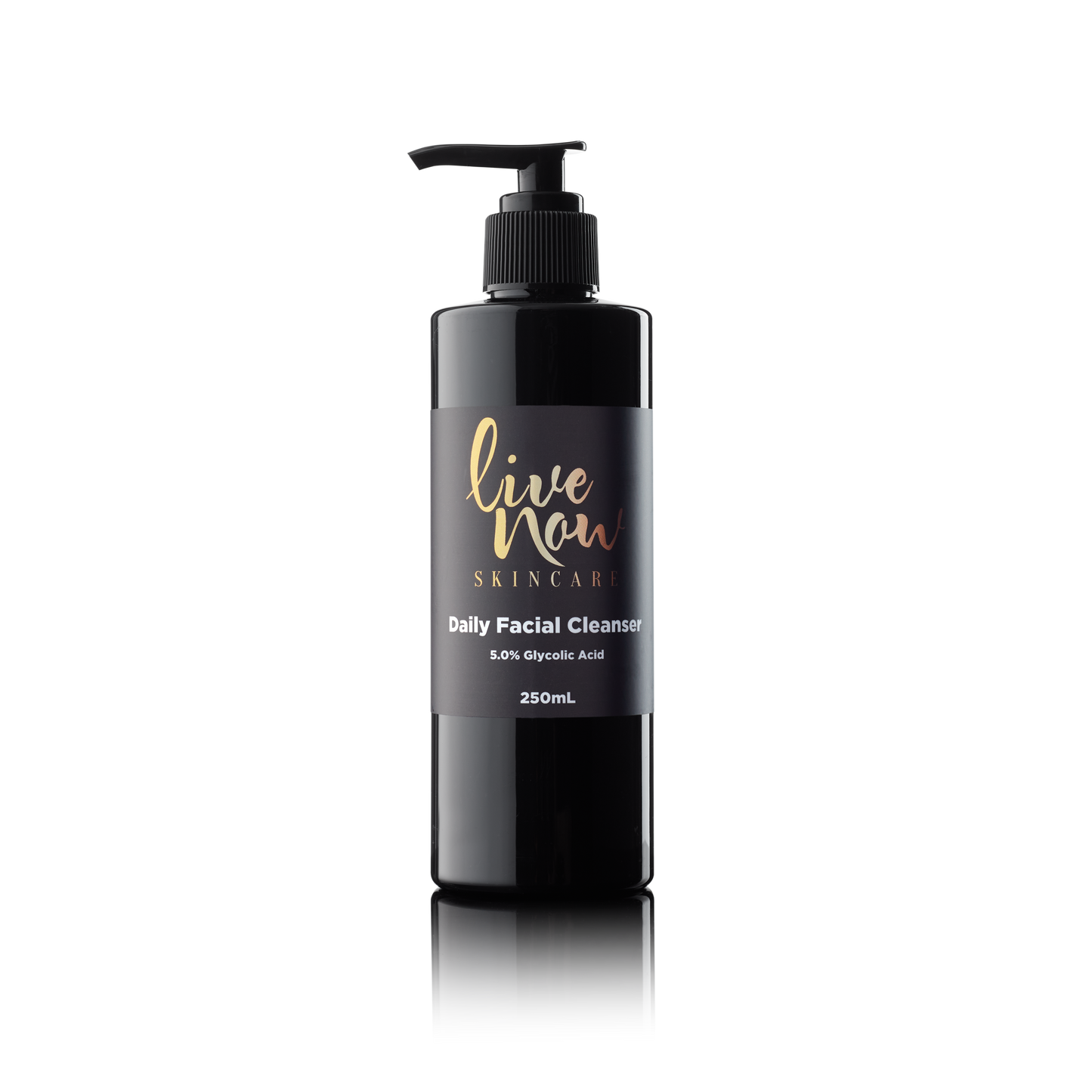 About Live Now Skincare
Live Now Skincare is an active, science-backed skincare range created for women who are busy living.
Delays Ageing

Prevents Bacteria Formation

Reduces Inflammation

Cleanses and Unclogs Pores
Created by a Medical Professional
Ruth Lavell (RN, NM, NP), founder of Live Now Skincare, has extensive pharmaceutical industry and practicing cosmetic nursing experience and has been formulating skincare products that WORK for more than ten years.

Live Now Skincare is 100% Australian made and owned.
Learn More